Fiber-Lite Mi-LED series Gooseneck Systems (-SG single arm, -DG dual arm)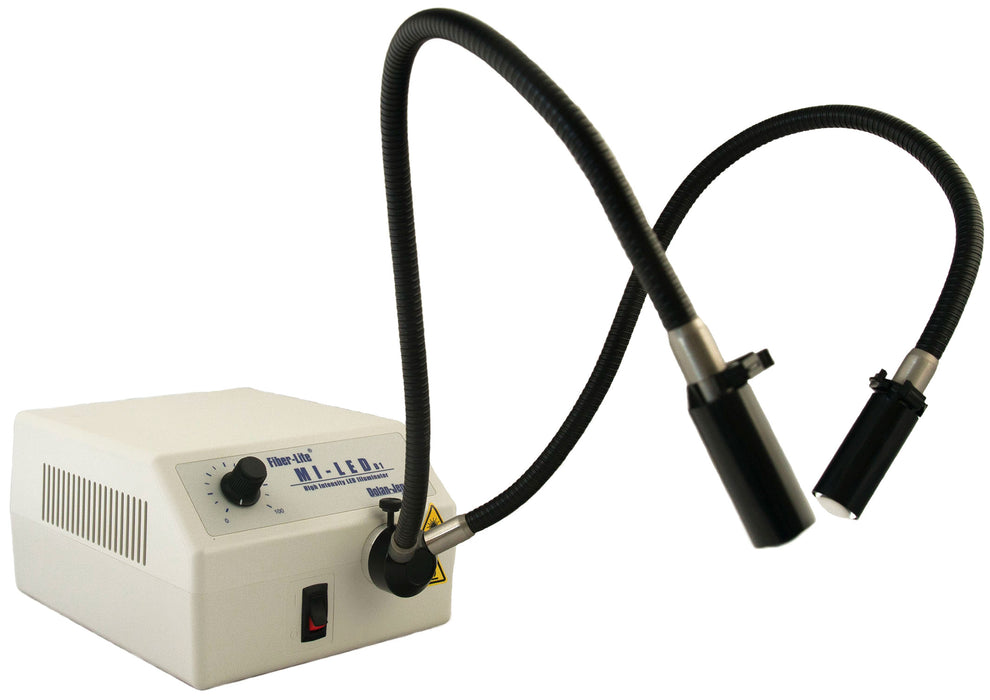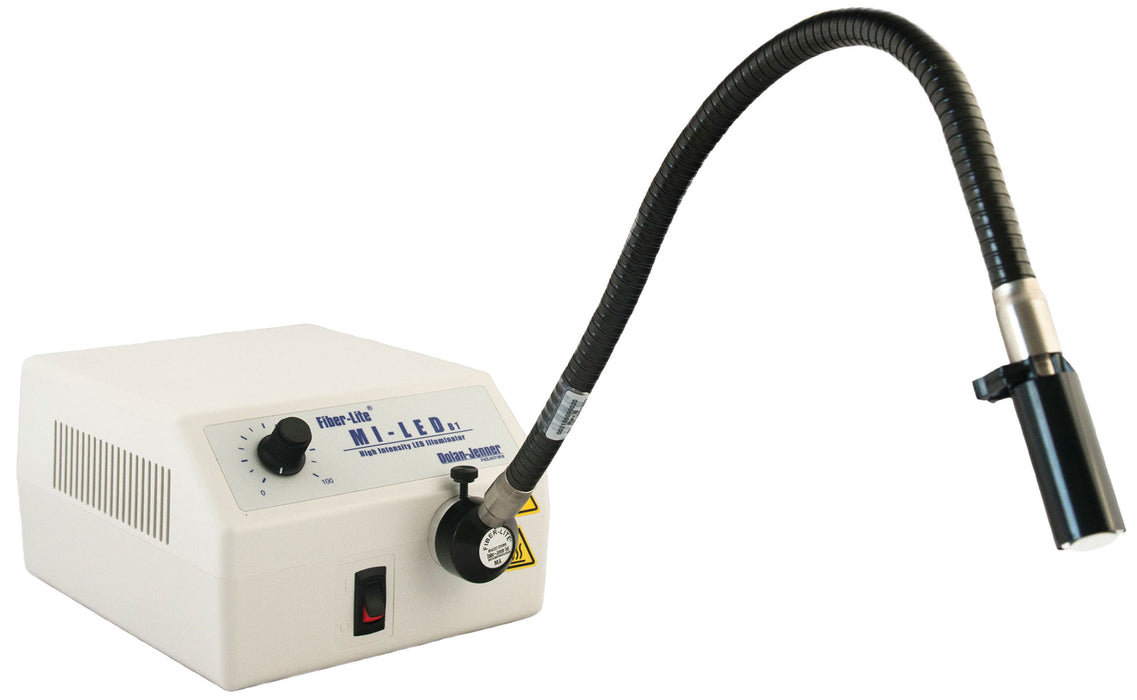 Part Number
MILEDUSDG MI-LED-US-DG
Current Lead Time:
1 week 
Description
Specs
Configurations
Goosenecks, single and dual arm, offer incredible positioning versatility for getting light right where you need it most. (2 options here, more options on our gooseneck page)


Dolan-Jenner introduces the New Fiber-Lite® Mi-LED Fiber Optic LED Illuminator for microscopy and general illumination. The Mi-LED utilizes the latest technology and is energy efficient, featuring cool white LED lighting with a "customer requested" color temperature of 5000K and even higher output than the Fiber-Lite Mi-150, 150 watt halogen fiber optic illuminator.

Microscopy Applications
The Fiber-Lite® MI-LED was designed with  microscopy applications in mind, able to support and fully illuminate gooseneck and annular ring light fiber optics. It is also a great solution for inspection equipment, forensics, machine vision, industrial borescopes, assembly stations, and OEM custom lighting.

LED Lighting
The LED lighting of the Fiber-Lite® Mi-LED is an energy efficient cost saving alternative requiring less power while delivering higher performance than comparable 150 watt halogens. Offering even more value, the Fiber-Lite® MI-LED is practically maintenance free with no lamps to fail, and no lamp sockets to wear out. The long life LED's of Fiber-Lite® MI-LED are rated to provide over 40,000 hours of light. Conversely, a 150 watt halogen can only provide around 200 hours of light. With such a dramatic increase in light hours, large savings can be realized through greater up time during applications, lower maintenance, and the elimination of replacement bulbs.

WARNING: This product can expose you to carbon black, acrylonitrile, or ethylbenzene which are known to the State of California to cause cancer (For more information go to www.p65warnings.ca.gov)

 

---

Systems, Ring light, Single and Dual Arm

Product Specs

High Power White LEDs
Consistent Color Temperature
Made in the U.S.A
Universal Power Supply
Low (IR) Heat
Low Energy Consumption
Stackable Housing
Multiple Fiber Optic Interface Options
Small Footprint
2 Year Warranty

 

Optional Configurations

-B1 15mm ID accepts "Mi-150 M series" light guides with 15mm end ferrule
-A2 25mm ID accepts "SX" and "MX" series, to adapt to any Dolan-Jenner fiber optic.
-A7 25mm ID with manual Iris accepts "SX" series adapters, provides extra color/intensity control. Accepts "most" Dolan-Jenner fiber optic assemblies.